Accumulators & Chimneys
---
Accumulators
FARM2000 recommend the use of accumulators, particularly for the larger boilers when low stoking frequencies are required, and when the boiler is remote from the building being heated.
Accumulators can be purpose made, or be adapted from existing steel tanks, provided they are in good condition, with sockets being welded on to suit, before insulation is added.
An accumulator acts as a heat leak, and allows the boiler to be fired un-interrupted at maximum efficiency and output, resulting in clean combustion which prolongs boiler life and reduces maintenance.
In mild weather and summer, a large accumulator enables stoking to be reduced to once a day or every 2-3 days.
A 4500 litre tank stores approximately 135kWhs. Always fit the largest tank you have room for. The bigger the tank, the greater your flexibility of stoking times, because more heat can be stored.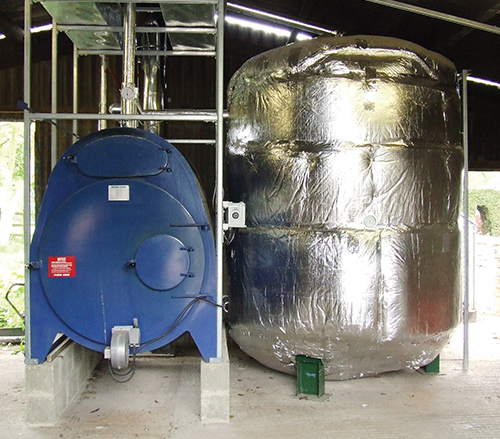 ---
Our standard Accumulator/Buffer tanks are available from 1000 to 40000 litres.
All tanks are manufactured in S275 mild steel of either 4mm, 6mm or 8mm thickness to help ensure a long, safe operating life.
All tanks are insulated with 100mm of rockwool insulation and covered with a mild steel outer cladding finished with our standard, hard wearing blue painted finish. Other colours are available but may incur additional cost, please call for details.
All tanks come with multiple PN16 Flange / BSP Socket fittings as standard, plus suitable fittings to install temperature gauges, expansion pipe connection and drain cock (optional), however we are very happy to discuss your specific needs and can accommodate most connection configurations.
All tanks can generally be supplied in horizontal or vertical configuration and are fitted with skids/feet.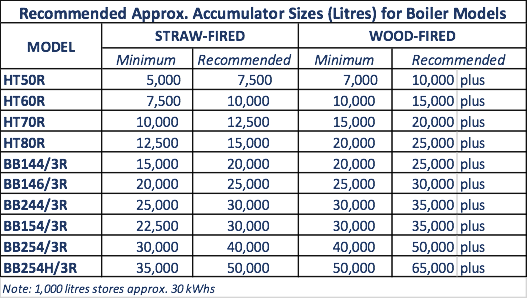 If our standard tank range does not meet your requirements then please call to discuss your specific needs, we can manufacture tanks to meet most requirements.
For customers who wish to provide their own insulation (spray foaming etc) or are on a budget we are happy to supply uninsulated, bare tanks.
Lead times are generally 4 to 6 weeks from receipt of deposit but may vary at busy times, please call to check.
Nationwide delivery is available at additional cost or you can arrange your own collection at your convenience, we have loading facilities on site to suit most vehicles.
Our family business has been manufacturing batch fed biomass boilers and accumulator tanks for over 6 years and our business prides it's self on providing fabricated products of the highest quality to meet our customers exacting needs.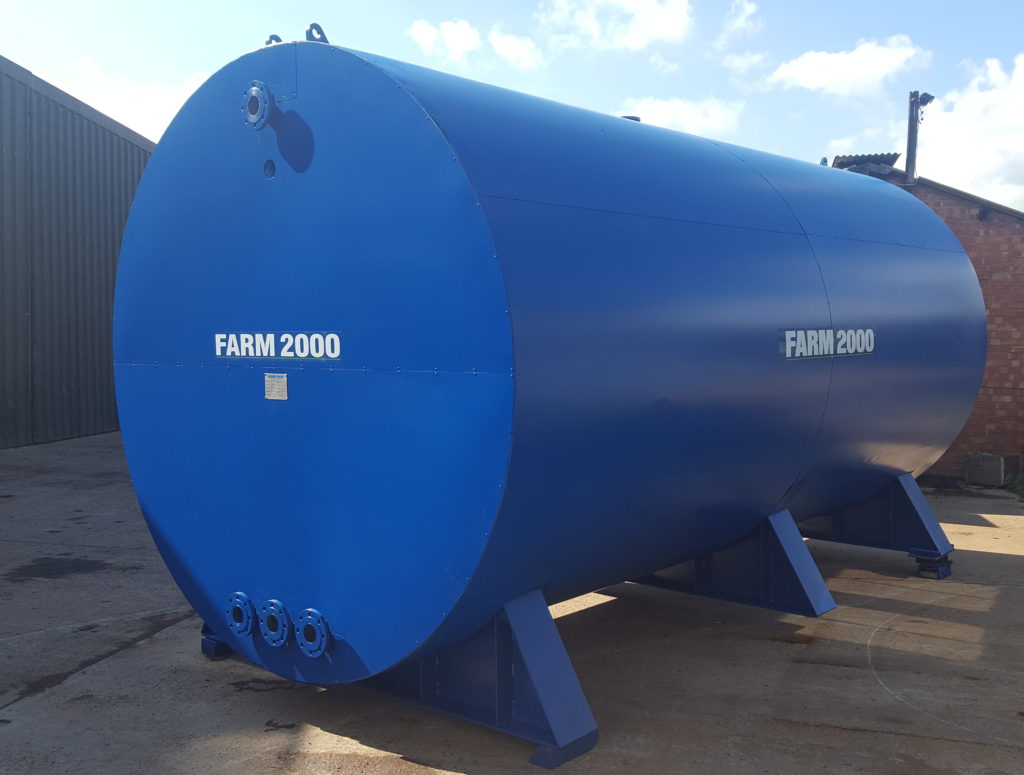 ---
Chimneys
Boiler efficiency and output is dependent on a well designed chimney.
The two functions of a chimney are:
to disperse the exhaust gases, and
to provide adequate draught through the boiler.
Failure to achieve this results in inefficient combustion, a dirty boiler and possible corrosion. FARM2000 supply stainless steel chimneys with 50mm insulation and we strongly advise not to use insulation below this thickness. Our chimneys can be colour coated to match your building.
The chimney should rise vertically from the boiler flue spigot, preferably with no bends or elbows and recommended minimum chimney heights are given in the Installation and Operating Instructions booklet.